Last Updated on 6th August 2021 by Allison
A Complete Guide to Buying a Heavy Duty Gazebo for a Craft Fair or Event
If you have read my article on the best places to sell handmade items locally, you will notice that some of the events take place outdoors. You need to have a gazebo (also referred to as a canopy or tent, depending on the event organiser, or where you are in the world) if you intend on selling at an outdoor event. This article will help you choose the best gazebo for a craft fair or any other outdoors event.
RELATED POST: 37 PLACES TO SELL HANDMADE ITEMS LOCALLY.
Not every organiser stipulates that you need a gazebo. With outdoor events, you usually book 'a pitch', which is basically the bit of land you're going to be stood on. This is traditionally 3×3 meters in size.
Even if a gazebo is not strictly required for an event, I strongly advise you to always use one.
Firstly, it will protect you and your stock from the weather. You don't just have to be concerned about wind and rain, you also need to consider direct sunlight on both yourself and your stock.
Secondly, it looks a lot more professional. I have been at many events over the years, where a trader with no gazebo has turned up, and every single time they have sat there bored as nobody goes near them because they don't look like they should actually be there (think Del-Boy and Rodney)!
You are essentially setting up your own pop up shop for the day and you have to look eye catching and professional. Choosing the right gazebo is really important.
This post may contain affiliate links. For more information, please click here.
Things to Consider when Choosing a Gazebo.
Type of Gazebo.
There are 2 main types of gazebo/tent/canopy that most sellers use. The first one is a pop up gazebo, which is what I, and most other seasoned traders use. These are also known as a heavy duty gazebo as they are stronger than a typical garden gazebo.
The second is one you build yourself. If you have one of these, have a look around while you are reading the instructions and trying to work out which pole goes where, and you will see the other traders looking over at you sympathetically. You may as well just throw all the poles and the canvas up into the air as that is where it will no doubt end up anyway. Remember the people I mentioned earlier who turn up with no gazebo? The chances are they had one the week before and it was one of these cheap, build it yourself ones.
When looking for a gazebo, you need a heavy duty one. These tend to have sturdier legs. If you look on the listing photos when browsing, it is best for the legs to be pointing straight up and down, rather than at an angle. Do not get a gazebo that has plastic legs as they will buckle even in a slight breeze.
I would recommend you buy a gazebo that has sides as well. A lot of gazebos don't come with any at all. If you are at an event and the weather is wet and windy, you, and your stock will get soaked without any sides on your tent.
Colour.
You need to consider what colour you want. I would always advise white. I have been in to some of the dark coloured gazebos at events, and it is so dark in them! You want your potential customers to be able to see your stock.
Size.
Make sure you buy the correct size. If you want a gazebo for a standard sized pitch, then you need a 3×3 meter gazebo. Don't get a 2×2 meter as you will have so little space in there. You can also buy 6×3 meter size but you could get charged for a double pitch. If you need the bigger size, check with the event organiser how much it will cost you to trade.
I'm hoping common sense will tell you to check the folded measurements and make sure it will fit in the boot of your car as well. You should find those measurements in the product listing. If not, contact whoever is selling the gazebo. Don't forget you need to fit everything else in as well!
Check if the gazebo comes with a carry case. I tend to buy a separate one which is the next size up so it's easier to get in and out.
The gazebo I use is this one from eBay.
Gazebo Checklist for Before Your Event.
Practise putting it up!
You should practise putting up, and taking it back down again so that you will be comfortable doing so on the day. You usually have to attach the canopy to the structure the first time you set up, so get that done when you have no time constraints. Also make sure it is easy enough to pack away into the carry case. I mentioned earlier that I buy a bigger bag for it. This is because it is usually a tight squeeze putting the gazebo back into the bag that it usually comes with.
If you are going to be on your own at events, make sure you can put the gazebo up on your own. Pop up gazebos only need one person to erect. It is obviously quicker if there are 2 of you.
Load your car.
Make sure everything fits into the back of your car ok. You will probably find that the gazebo is one of the first things to go in due to the size. Try and pack the car so that you don't have to completely empty it before you can get the gazebo out, as that is a complete pain!
Layout.
I strongly advise you to make a dry day layout plan, and a wet day layout plan before your first event. When it's dry, you can utilise the space in front of your pitch and to the sides (if you have any). On a wet day, everything needs to be safely under the gazebo, especially if the weather is very bad and you need to have the sides up. Make sure you have a plan for how to switch from dry day plan to wet day plan quickly and easily. If you are in the UK, you will probably have to do this quite a bit with our weather being so unpredictable!
When planning your layout, don't forget you need room for yourself and your customers. I see some stalls that put their tables in a way that customers can't stand in the gazebo at all. This is a bad idea, especially if it starts to rain, as people will always go and get shelter. I have made many, many sales to people trying to get out of the rain for a few minutes.
Handy Items to Bring to an Outdoor Event.
A brush or mop pole. Sounds crazy, I know, but if it starts raining heavily, water will start to pool on your roof. Poking it with a big stick will help stop any leaks starting.
Towel. For drying stuff. You may have gathered there's a bit of a theme to this article. You can tell I live in the UK, can't you?
Disinfectant spray. If it's an outdoor event, it will more than likely be dog friendly. I make dog accessories, so every event I go to is usually dog friendly. Boy dogs love a good wee against gazebo legs! Although, I did hear of a stall who lost a lot of stock at an event when a Great Dane decided to cock his leg up against one of her tables and wee'd all over the top of her table!
Dog Water Bowl. This may seem like the worst idea ever after my last bit of advice, but dogs are brilliant sales reps. They always come into your tent with a customer on the other end of their lead. I always have treats in my pockets as dogs can smell them a mile off. Sneaky, but effective.
Waterproof Sheet. This is really important as it has a number of uses. If, like me, your gazebo has to be the first thing to go into the car, it is inevitably the last thing to get out of the car. I lay the sheet on the floor and put everything on it while I get the gazebo out and put it up. This also has to be done when loading the car up again at the end of the day.
Tarpaulin Clamps. These are very handy when the weather is being unpredictable. I will put the gazebo sides up and use these TARPAULIN CLAMPS to hold the sides around each corner of the gazebo. If it starts to rain, I take the clamps out and the sides are there ready to protect everything from the rain. It is a lot quicker than trying to put the sides up from scratch once it starts raining!
Bin Bags. For putting wet towels or wet plastic sheeting in at the end of the day.
Sunscreen. Just in case you don't need most of the other things on the list!
Dealing With The Wind.
Lots of wind and a rubbish gazebo is not a good combination. It usually ends with lots of wind and no gazebo!
A heavy duty gazebo is only the start of it. You need to be prepared for wind, and it is better to get into the habbit of setting up that way for every event you do.
There are extra accessories you can buy to help you cope with a windy day. The most important being EXTRA LONG TENT PEGS, and HIGH VISIBILITY GUY ROPES.
Most of the gazebos will include 4 tent pegs and guy lines but they are only very basic, and not very strong.
I would advise you to buy extra long tent pegs. You will need a minimum of 17 pegs-2 for each leg, 2 for each of the guy ropes, and 1 to help you get them all out of the ground again at the end of your event.
A mallet is also handy for putting the pegs into the ground.
When securing the gazebo with the tent pegs, you need to put them in at angles as it makes it more secure.
When putting the guy ropes into the ground, they need to be at 45 degree angles and the rope needs to be taut to keep the gazebo steady. They are amazingly easy to trip over, which is why I am suggesting high visibility ones.
Most good quality gazebos have 2 or 3 height settings. Having it on the highest setting on a lovely, calm day makes your gazebo feel more spacious.
If it is windy, you are best putting it to the lower height setting for added stability. This is something that can be done quickly and easily at any point during the event as the height is controlled by a button on each leg. If the wind drops, you can raise the height again.
If you are at an event where you can choose where to pitch, try and set yourself up next to someone with a bigger gazebo than yours if possible. That way you can get a bit of shelter from their set up.
You could also attach your gazebo to your car (if you are parked behind your gazebo). I have done this a number of times using a guy rope.
How to Make Your Gazebo Stand Out at an Event.
One downfall of being at an outdoor event is a lot of the gazebos look the same from a distance. You need to try and make yours stand out a bit. Maybe you could utilise a few of these craft fair tent ideas?
I use bunting and attach them to my guy ropes to make my gazebo more colourful. I also use signage which I have had printed onto flag material so they can be attached to the exterior walls of my gazebo if they are up. If it's a nice day I will put it up at the back of my gazebo instead.
I always have a dog bowl full of water, as mentioned earlier, which always helps.
One thing I have seen some traders do which I would NOT advise you to do, is to put a rug down for flooring. It does look good, but this is a massive safety risk.
If the weather is nice, always put something out in front of your gazebo, as it might catch the eye of people who are just walking past you. This could be a display, some stock, or even an A-board with some information on it.
If I am at an event where it is a nice day, and looks like staying that way, I put the majority of my stall in front of the gazebo, rather than in it. This always works in attracting attention.
People always attract people. So, when other people see a little crowd forming at a stall, curiosity will always bring them over.
Another thing you should NOT do, is stand in front of your stall trying to give people flyers, or asking people to come and have a look. Not only will you scare off any potential customers, you will also seriously annoy your neighbours, as they will miss out on custom as well. Dragging people into somewhere only ever works if it's free shots being given out to young people in a bar. Don't lower yourself as it's not a good look.
I hope you have found this guide to choosing a gazebo helpful.
Do you have any tips of your own? if you do, share them with the group in the comments below!
RELATED POST: CRAFT SHOW TIPS FOR BEGINNERS.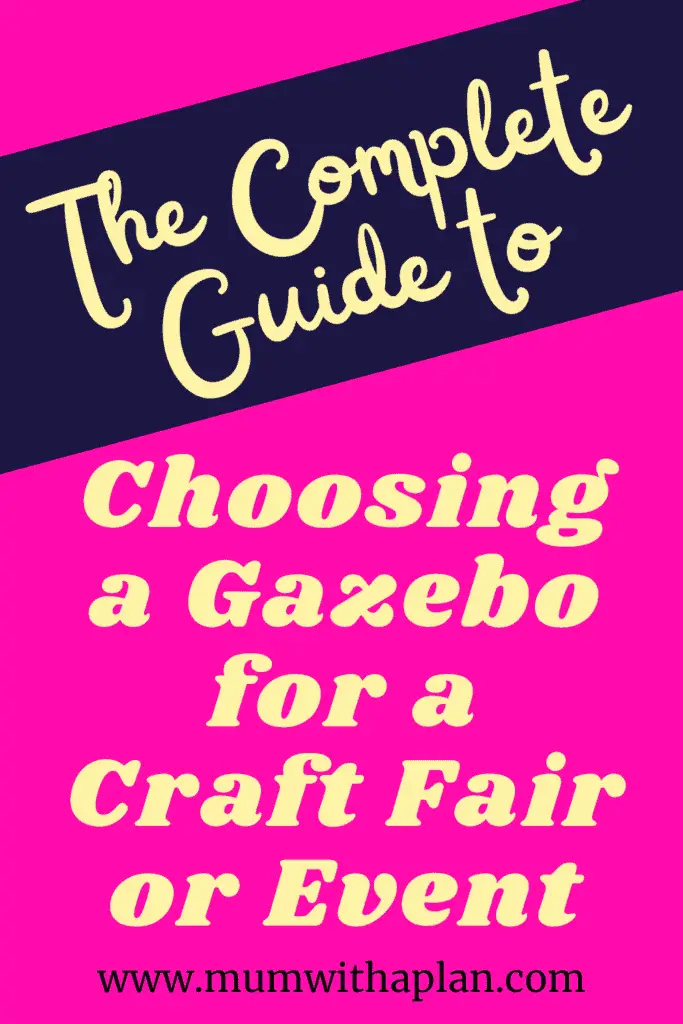 We are a participant in the Amazon Services LLC Associates Program, an affiliate advertising program designed to provide a means for sites to earn advertising fees by advertising and linking to Amazon.com