Last Updated on 6th August 2021 by Allison
Any small business owner knows that there will be times when business is slow. It could be due to the time of the year, for example, February and August are notoriously slow months in retail. Businesses can also be affected for other reasons out of their control; worldwide pandemic anyone??
A slow period in business needs to be taken as an opportunity to improve your business. It is pointless sitting around moping, as these things happen. You need to stay motivated and keep the mindset that this is hopefully only temporary.
I have compiled a list of 20 things to do when business is slow to try and give you some ideas.
At the time of writing (March, 2020), the whole world is in the grip of The Coronavirus, which is affecting businesses across the globe. No business is too big or too small to be affected. I will be taking my own advice and will be working my way through this list. In fact, I have already implemented some of them.
20 Things To Do When Business Is Slow.
1. Tidy Your Workspace.
It is much easier to work in an organised space. Spend a day going through where you work and de-clutter! I am lucky enough to have a whole room to work in so it took me a few days to go through it.
I decided to do this a few weeks ago, and I went through drawers, cupboards and storage boxes. Anything that I knew I wasn't going to use I donated to my son's school as they are always looking for craft supplies. I kept hold of a box of fabric scraps that has built up over the past year as I am determined to put it to good use and to reduce my waste. There is a good suggestion that will help with this further down the list…
2. Sort Out Your Stock.
Do you have a best selling item that you could do with making more of? Maybe it can be made in different colour or size variations?
Do you have any items that aren't selling? Now would be a good time to reduce the price to get rid. You want to have more stock of your popular items and none of anything that won't sell.
3. Look At Your Event Signage.
I have a few different signs that I use when I am at an event-prices, credit/debit card sign, and social media information. They are all printed onto white paper and then laminated. After a while though, they can start to look a bit shabby.
Have a look at your signs. Are they clear and easy to read? If not, get them sorted now while you have the time to.
4. Go Through Your Event Bag.
I honestly don't think I would be able to function without my event bag. It has everything I need for any event and has taken me a couple of years to get it perfect. That being said, I am a bit rubbish at taking things out and forgetting to put them back in again.
If you have a list of what should be in your event bag (if you don't have a list, there is something else for you to do), go through it and make sure you have everything you need.
RELATED POSTS:
37 PLACES TO SELL HANDMADE ITEMS LOCALLY
17 MISTAKES TO AVOID AT A CRAFT SHOW
5. Update Your Website.
When business is slow is the perfect time to update your website, or to build one if you don't already have one.
If you do have a website, are all your listings up to date? Are there any that need to be added? If you have any products that aren't selling online, have a go at changing or adding to your product description, or add more photos so potential customers can maybe see the product from different angles.
6. Learn A New Craft or Skill.
Remember the fabric scraps I mentioned earlier in this post? This is where I want to make use of them somehow! Having a go at a new craft is a great idea for while business is slow. Especially if it is something that will compliment what you already do.
I have been promising myself that I will try and conquer the one craft that I just can't seem to get the hang of-crochet!! I knit dog jumpers and scarves while I am watching TV throughout the year, ready to sell during Autumn and Winter, so this will compliment what I already make.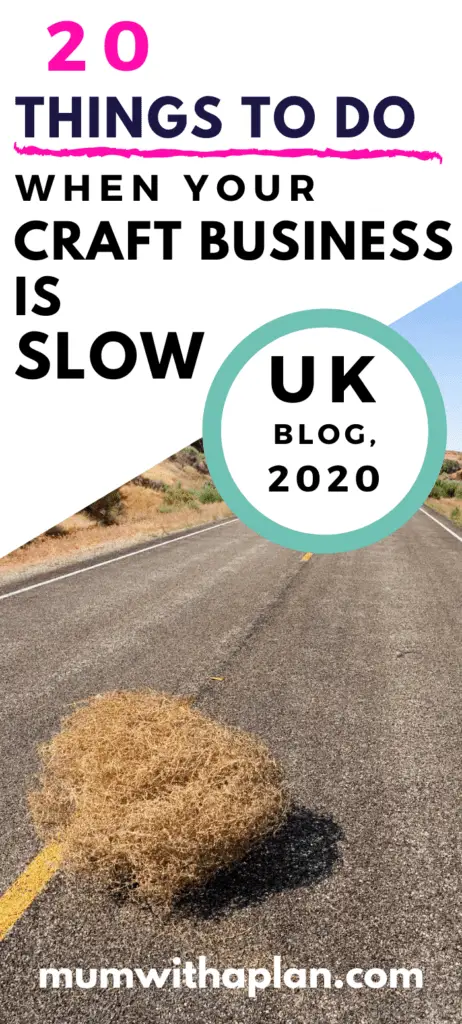 7. Engage More On Social Media.
Your social media can get a bit neglected when you are busy with orders and events, I know mine does. It is important to keep active on the social media platforms you use so that your engagement stays ticking along. People trust businesses who are regular users of social media more than those that just post once in a blue moon.
If you are going through a quiet period, make a point of posting something on your social media platforms a few times throughout the day. Like or comment on other people's posts as well to help keep your engagement active. You could always have a go at something similar to the March Meet the Maker challenge, which is always popular on Instagram. Plan a list of 31 topics about yourself or your business and post about one each day.
8. Start A Blog.
It is a perfect time, when business is slow, to start a blog. You could add a blog to your current website (if you have one). If you have a website selling children's clothes, you could blog about trends, or children's fashion around the world, or up and coming designers.
Now is also a very good time to start a blog not linked to your creative business! Do you have knowledge in something that you would like to share with the world? It could be dieting, home organisation, home schooling etc. You only have to go down a rabbit warren on Pinterest to see how many different blogging topics there are in the world.
A blog can take anywhere up to 3 years to really take off and start earning you an income. This blog you are reading now is only a few months old. As I have a successful creative business, there are times when business is slow, so I focus more time into this blog. When business is really busy, I can't spend as much time on it, but my blog is still being seen around the world.
There is an amazing lady called Suzi Whitford who is the Queen of setting up and monetising blogs. I have learnt everything I know from her. She has a free blog planning course which you can find here.
9. Look At Your Monthly Outgoings.
There is never a better time to check how much your business is spending each month than when there isn't much coming in! I try and go through my expenditure every quarter to make sure there is nothing being paid out that I don't actually need to be paying for. I have a couple of things on a monthly payment schedule that I cancel if it gets quiet. For example, I have an automatic order each month for my label printer labels. I cancel it in January for a few months while it is quiet, then pick it back up again in April. Even shaving £10 or £20 a month off your outgoings will make a difference when business is quiet.
10. Start To Prepare For Upcoming Holidays or Events.
I don't know of any creative business owners who don't kick themselves every year, in November, because they promised last year they would be more prepared this time!
Christmas happens at the same time every year. It doesn't move, and, in most cases, it is always one of the busiest times of the year. If your business is going through a bit of a quiet patch, start getting ready for when it is going to be busy. If you have a best selling Christmas product, get started early on making them. Some people are so organised about Christmas, they start shopping in the summer (weird….i know..). You have to be in it to win it, so get those Christmas products listed early. If they don't sell in the summer, you know they will sell in the run up to Christmas so you have saved yourself some time!
11. Spring Clean Your Laptop.
Every so often, I feel the need to go through my laptop and get rid of everything that isn't needed. I always panic that I'm going to run out of space on it. I go through my folders and delete any old documents that I will never need.
The photo folder is usually a good place to declutter, by deleting all of the unedited photos that have since been edited and put into correct folders. The download folder usually needs clearing as well. When you save a downloaded document or photo to one of your folders, it stays in the download folder as well, but you don't need it in 2 places, so you can free up space that way.
12. Network With Other Small Businesses.
This is super important no matter what is happening with your business. Small, local businesses need to support each other. We are all in this together and all have very similar goals in life.
Since starting my own business, I try to shop small or shop local as much as possible. I will recommend small businesses to other people when I can.
We are currently in the middle of a crazy, worldwide pandemic, where businesses are having to close through no reason of their own. Small, creative, work from home businesses are actually starting to come into their own in this situation, as we are able to continue working. People are buying online as they are bored. I have seen a big shift on social media with people trying to use small businesses to do their bit to help the economy.
13. Update Your Product Photos.
It is very important that you have good photos to showcase your products. They don't need to be professionally done. It is easy to do them on your own. The most effective product photos make it clear what is being sold. If you are selling items like jewellery, have a plain background in your main photos. You need to ideally have approx 10 photos for each item. Think to when you are shopping online for a top. You make sure you look at the one you like from all different angles. It's no good having just one photo of your product. Take photos of it from different angles. It is also good to have a photo of it being used/worn (not earrings though-people find that dead icky!)
There are a number of free photo editing sites that you can use to brighten your photos up, or reduce their size etc. I personally use Photoscape which is really easy to follow. You can download it HERE.
14. Keyword Research For Your Listings.
Whether you are selling on Etsy, Amazon, your own website, or any other selling platform, keyword research is essential.
A keyword is a word or a phrase that describes your content. It is essentially what people type in on search engines when looking for something. You need to show the search engines that you have what people are looking for by using relevant words or phrases in your titles, image titles, and also your content-whether that be a product listing or a blog post.
The easiest way of finding good keywords, related to your niche, is by using the search engine auto predict. I use it on Google and Etsy. So, if I am selling candles, I go to Etsy and type in 'candle' and the search engine will give me a list of choices. These choices are based on how many people search for those terms. If the search term (keyword) is applicable to what you sell, it's a good idea to have that within your listing and title so the search engine knows you are selling that product as well.
This is just the absolute bog basic explanation of keywords. I will go into more detail about keywords and keyword research in a later post.
15. Do Your Annoying Little Jobs.
Every business has them. Those little annoying jobs that need to be done but you don't like doing them. For me, there are a few jobs I need to do around packaging-putting return address labels on the back of my mail bags, putting address labels onto customs forms, and cutting tissue paper down to the size I need. These are all things that make things easier for me (if already done) when I'm packaging 30 or 40 orders at a time.
If business is slow, spend a few hours getting ahead of yourself with these little fiddly jobs.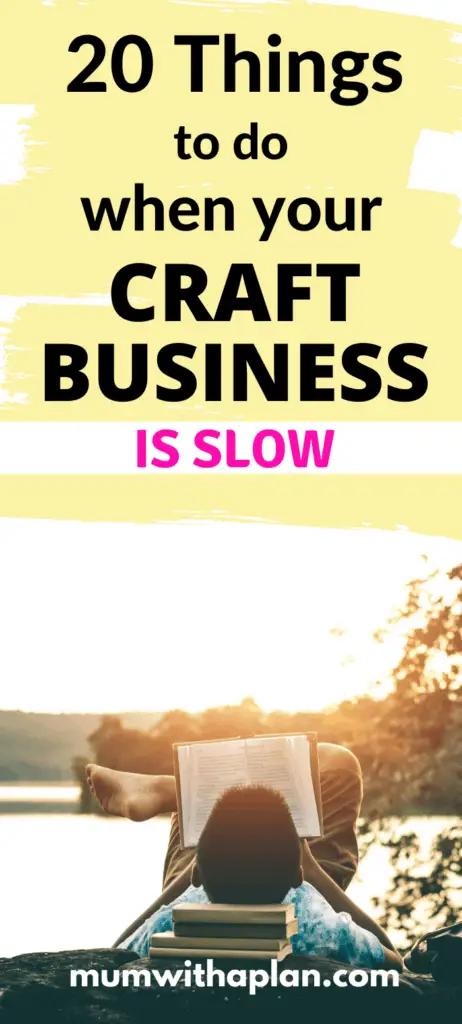 16. Research Future Events.
I will always advise people to sell both online and offline wherever possible. That way, if one way of selling is quiet, the other will hopefully keep you ticking over. A good example of this is August. August is usually very quiet for online sales as people are on holiday or spend more time outdoors. Artisan markets, however, tend to be busy, as people enjoy the (hopefully) nice weather.
Spend some time fully researching upcoming events to see if they are worth booking on to.
17. Add New Listings On A Regular Basis.
This may sound a bit stupid to some people, but it is essential that you keep your shop updated. It is always best to be adding a few new listings every week (if you are in a position to do so). If you have a repeat visitor to your site, but every time they visit, they see the same products, they will eventually stop, as there is nothing new for them to look at. If you had a bricks and mortar shop, you would make sure new stock is available regularly, as well as maybe reducing stock that isn't selling so you can get rid of it. Your online shop should work in exactly the same way. Google favours websites that are regularly being updated as it shows them that the content is fresh and relevant.
18. Revamp Any Older Listings That Aren't Selling.
If you have items on your online store that aren't selling, try rewording your description (remember what I said earlier on about keywords). Add more content to your product listing. Make sure you have measurements included so potential customers can visualise the size of the product. You could also consider reducing the price if it has been listed for a long time.
19. Don't Panic!
Businesses have both busy and quiet times. It is something every business owner will face at one time or another. It is a waste of time panicking as it won't change the situation. You need to take the cliche by the horns and take positive steps to either prepare yourself for when things get busier, or get yourself seen by a bigger audience, by increasing your selling platforms.
20. Stay Positive!
I know it is easier said than done, but working from home has some very positive points-you don't have the overheads that come with having a bricks and mortar premises for a start. It is also easier to take time out and spend more time with friends and family. If business is slow, now is the perfect time to take some time out and relax. In a couple of months down the line, you will be stressing because it's too busy again!
Have I missed anything out? Let me know in the comments if you can think of anything.
2021 Update.
When I created this post, in March, 2020, I fully expected to spend the next 6 months taking my own advice and working on the 20 suggestions.
The Pandemic, however, had other ideas.
Online sales exploded, as people were bored, and couldn't go out shopping! I was so busy with orders I didn't have a chance to do anything.
All of my plans to write lots of helpful articles for this blog also went out of the window until March of this year!
It is now May, 2021. Here in the UK we are just coming out of our 3rd (and hopefully the last) lockdown. My online sales have gone back down to a normal level which means I can now get back to work on my blog!
I hope you have all come through this awful time safely.