Last Updated on 6th August 2021 by Allison
Etsy is the world's most popular marketplace for handmade goods. It has over 1 million sellers and 30+ million buyers, and it provides a fantastic opportunity to introduce your products to a huge audience of potential customers. But some people find it impossible to make a sale.
How can you get seen on Etsy? And how can you make sure that people buy your products when they see them?
Unfortunately, it isn't as simple as just listing your products, then sitting back and waiting for the orders to flood in.
You have to pay careful attention to the details in order to succeed on Etsy. You can only be successful on Etsy if you are seen.
RELATED POSTS: HOW TO OPEN AN ETSY SHOP IN THE UK.
COMPLETE GUIDE TO ETSY SHIPPING.
ALL YOU NEED TO KNOW ABOUT ETSY COMPETITOR ANALYSIS.
Etsy Search.
The main way in which your products will get seen on Etsy is through the search results. This is what appears when a buyer types what they are looking for into Etsy's search bar.
Etsy's search bar is just a search engine, and works similarly to Google, in that it will automatically filter results by the words entered into the search bar. These are also known as keywords.
If you are not optimising your product listings for words and phrases that you think your potential customer would use, then they will never be found in searches. The more descriptive the title, the more keywords you include and the better your item description is written, then, all other things being equal, it should rank higher in search results.
What is a Keyword?
A keyword is a single word, or a phrase (which are also known as long tail keywords) that people type into the search bar when looking for something online.
When you are selling on Etsy, it is important that you have relevant keywords in your title, as well as in your product description so that you have more chance of 'matching up' with what someone types into the search bar.
This is also known as search engine optimisation, or SEO for short. This is one of the most crucial parts of being an Etsy seller, as showing up in the search results is how people will see your product, and then hopefully go on to make a purchase.
Etsy uses their own search algorithm to determine what products appear in search results when a shopper types in what they are looking for.
Etsy are well known for changing their algorithm constantly, much to the frustration of many shop owners. However, if you follow the basic principles of Etsy SEO, you should expect your products to eventually start appearing higher up in the search results.
Here are some great tips to help you increase visibility on Etsy:
Think Like a Buyer!
Put yourself in the shoes of a buyer for a moment. When you type what you are looking for in the search bar of any online store, you expect to see results relevant to what you have entered. If you know exactly what type of product you are looking for, you enter a specific description into the search bar and you will get the best match. The products that appear first contain the words that you have been searching for. As you scroll down through the results, the results become less relevant to your description.
The majority of customers using Etsy find the item they want by using the Etsy search bar, so make sure you have a good title and that your description has all the keywords it needs.
The more relevant words in your title, the better chance of it being seen by buyers through searches on Etsy. Keywords are essential too (again use them in both the title and the description).
I will use one of my product listings as an example for the rest of this article, a rainbow stripes dog collar and lead set.
You can see the actual listing for yourself HERE.
Get Your Title Right.
When listing products in my Etsy shop I always try to think like a buyer. What would a potential customer type into the search bar to find a rainbow striped dog collar and lead set?
My title for this set is:
'Rainbow Stripes Dog Collar and Lead Set, Gay Pride, LGBT, Dog Collar and Leash, Puppy Collar'
If I was a buyer looking for a rainbow stripes collar and lead, I would search for 'rainbow stripes collar and lead' or 'rainbow collar and lead', or even 'rainbow stripes puppy collar' if I was about to get a new puppy.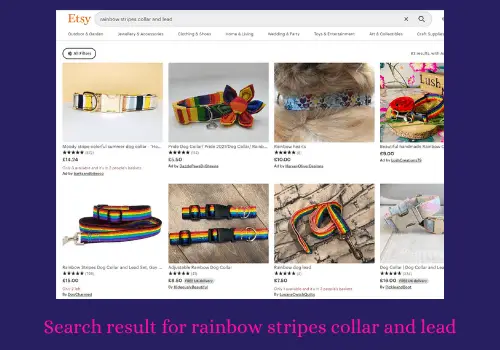 My listing appears at the top of the organic search results (after the top row of ads) for all of the search terms I have just mentioned. It also appears at the top when I search for 'gay pride collar', 'rainbow stripes collar and leash' and 'LGBT dog collar' (all of the searches were made in an incognito window to give a more accurate result).
The more relevant words you have in your title will ensure that customers can easily identify what you are selling.
There is also a greater chance that what the customer has typed into the search bar will match with part of your title.
This is the strategy I use when deciding on my product titles. If I had only used 'rainbow stripes dog collar and lead set' in my title, I wouldn't have appeared in any of the other Etsy search results, as Etsy wouldn't have thought my product was relevant for that particular search.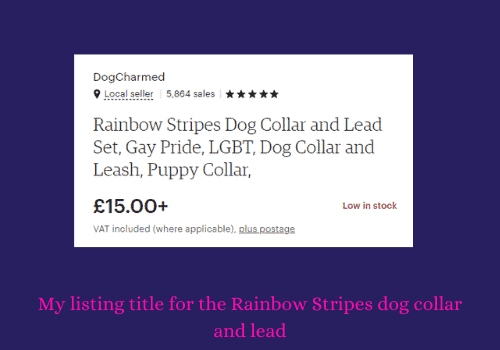 You have 140 characters to use for your Etsy title. Use as much of it as you can, but put your most relevant description at the start.
Don't forget, you also have a chance of ranking on Google as well if you get your keywords right.
The way Google shows results that are listed in Etsy seems to have changed though recently. Previously, if you Googled a search term, eg, rainbow stripes collar and lead, it would show as an individual Etsy listing. Now, it takes you to the Etsy search results page for that search term. Better than nothing, I suppose!
Create Listings that Clearly and Accurately Describe your Items.
The next thing you need to ensure when you list an item is that you are putting it into the correct category. When you start typing what your item is, Etsy will suggest a category for you. Be careful though, as it doesn't always get it right. You can override it for a more suitable category if need be.
Features.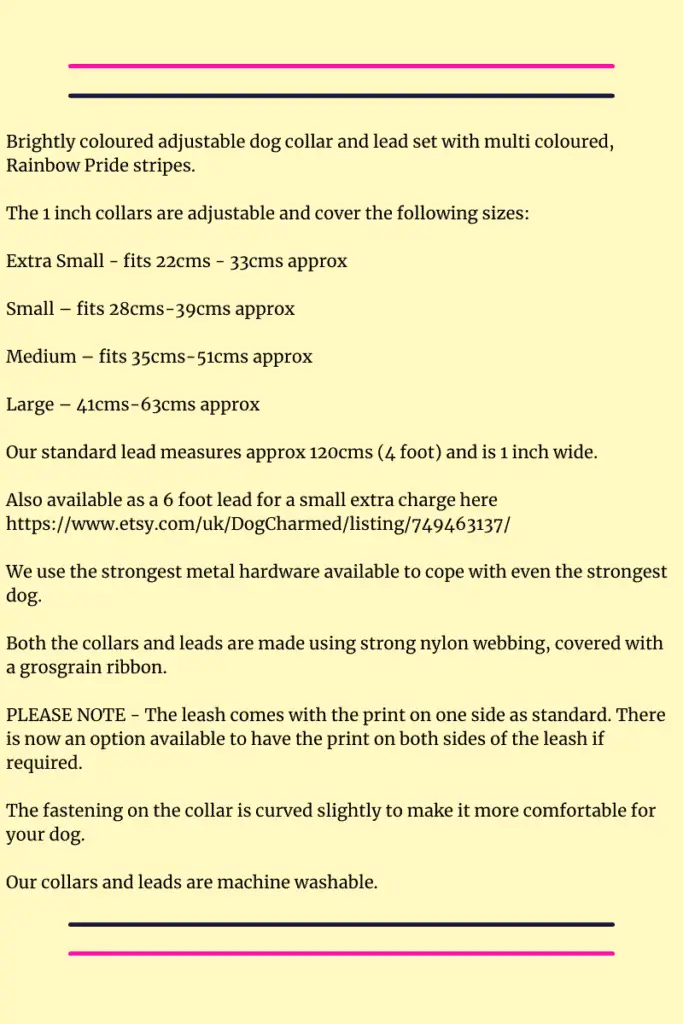 When creating a listing for your product, make sure you include a full, but easy to read description of what the item is and any features it has which could make someone want to buy it.
The image above is the item description for the collar and lead set.
One of the main features for my rainbow stripes collar and lead is that it is machine washable. Anyone who has a dog who loves mud (like mine) would be more inclined to buy something that was machine washable, rather than something they have to hand wash all the time.
Other features I make sure to include in this listing is that the collar is adjustable, and the hardware I use is also suitable for very strong dogs.
Features of your product can sometimes help the shopper make the final decision when buying something.
Make sure you mention what materials have been made to create the item. This can be done in the materials section in the form of Etsy tags. This is important as it adds to your list of keywords that Etsy SEO takes into consideration.
Variations.
If you are selling a product that is available in different sizes or colours, be sure to include that information as well. You will also need to make sure your variations on the product show clearly what the options are. There are options there for you to choose for the variations, but I prefer to name them myself so they are as clear as possible.
Dropdowns Menus.
There are also some dropdown menus within your listing (just above your item description) with headings like celebration and occasion etc. If you product falls into a celebration or occasion item then fill that part in as it will help with your SEO.
There are also colour options within those dropdown menus. I advise you to use them if you can as it gives Etsy (and therefore a customer) more information about what you are selling.
Internal Links.
It can be a good idea to add a link to another of your listings within your item description, as long as it is relevant. I don't do this for all of my listings, but sometimes I will add a link to a bandana that matches the particular collar. This can help to encourage more sales.
I actually use this method in my listings for dog collar and lead sets.
Etsy only allows for 2 variations per listing, but I need 3 when I am selling collar and lead sets-one for size, one for print on one or both sides of the lead, and then a final one for a longer lead option.
My way around it is to offer a 6 foot lead by including a link to another listing which is an upgrade to a 6 foot lead. This works very well for me.
Shipping.
Don't feel pushed into offering free shipping, in the hope that it will help you get found easier.
Etsy constantly try to encourage this. I offered free shipping for a month as an experiment, and then went back to charging for P&P and it made absolutely no difference to my sales.
If a buyer is interested in your product, they will pay for the postage if it is reasonable. When I am looking to buy something online, reasonable postage costs will not put me off at all.
If you sell internationally, be aware that tracked shipping is standard in some countries. Make sure you offer tracked and non tracked to give customers the option.
Use your Etsy Tags to help Shoppers find you.
Getting your Etsy tags right can be tricky and takes some time but it will be worth the effort in the end.
The place to input your tags is towards the bottom of the listing. It says 'optional' next to it, but, it should really say 'essential' as it's one of the most important sections for Etsy sellers.
You can add up to 13 tags for your listing, and I strongly advise that you use all 13 tags if you can. Using all 13 tags properly will give you the best possible chance of appearing higher up in the search results.
Keep in mind that you only have 20 characters for each tag which is really annoying, seeing as though you can enter more than 20 characters into the search bar when looking for something.
Make sure they are relevant, as these tags are an important part of Etsy SEO, and is mainly how to get seen on Etsy search.
If you use add random tags for the sole purpose that you know it's a popular term, you may appear in the search result, but you will stand out for the wrong reasons!
Try and include some long tail keywords in your tags as Etsy loves them, although with only 20 characters, you are limited to what you can use.
Check out your Competition.
If you are struggling to use up all of your tags, do some competitor research to see what tags they use.
You should already have a list of your competitors if you have done research before opening your Etsy shop. Go to one of their listings and look at their title and also go to the bottom of their listing and look where it says 'explore related searches'. This will give you an example of the tags that they use.
'Gift' tags are always a good option as a lot of people shop on Etsy for gifts. A good example of this is, if you sell anything for the home, you should include 'new home gift' or 'housewarming gift' in your Etsy tags.
Here is a list of the tags that I have used for my rainbow stripes collar and lead set:
Collar and lead, collar and leash, dog accessories, dog collar, puppy accessories, puppy collar, large dog collar, gay pride, LGBT, rainbow stripe, dog owner gift, summer dog collar, 6 foot lead.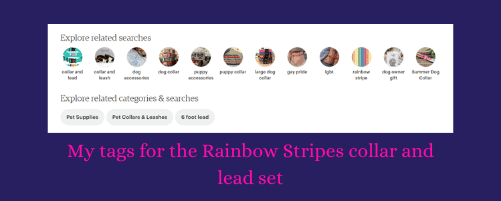 Update your Tags.
I like to change a few of my tags throughout the year to help with seasonal trends. From September I like to use specific keywords related to gifts, for example 'Christmas dog gift'. I will then change that tag in January to something like 'spring dog collar', then 'summer dog collar' and so on.
If some of your Etsy listings are selling well, but others aren't selling at all, go and have a look at the tags you are using and see if you can change a few of them.
I have tried to keep my tags varied but relevant. This is why my listing appears so high up in the search results for different search terms.
Make Sure Your Etsy Shop Looks Professional.
Once a customer has clicked onto one of your listings, they may then click through to your Etsy shop to have a look at what else you are selling. This could result in a sale, or the customer could mark your shop as one of their 'favourites'.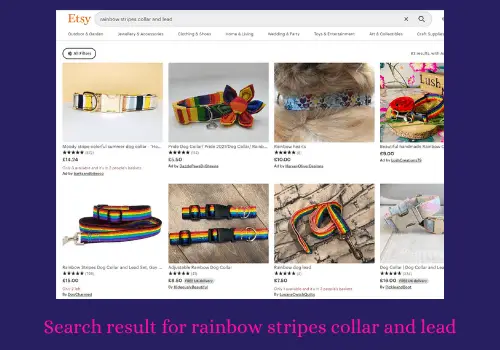 This is great news as an Etsy seller, as they will then be notified on their Etsy feed if you list any new products.
It is important that your shop looks professional and has a good variation of listings for people to browse through. Make it easier for the buyer to look through your Etsy shop by creating categories in your shop, rather than just having one big pile of products on show.
Make sure you have a nice, eye catching shop banner which shows people what you sell, and that your 'About Me' section is filled in. People always love a good story when it comes to buying handmade items.
People also like to read the shop updates, so make sure it has been updated recently, even if it's just to say hello and tell people what you have been up to.
Have Clear Photos of your Products.
This is so important. Having good photos won't help you appear on the first page of the search results, but shoppers are more inclined to click on a listing that has a good, clear photo.
I have come across some listings that have appeared top of the search results, so their search engine optimisation is spot on, but then they ruin it all by having the most awful product image.
You can appear top of the pile in the Etsy search results, but if your photo is rubbish, buyers will scroll right past it.
Tips for Good Photos that Stand Out Amongst the Crowd.
Make sure that your photos clearly show what it is you're selling. Try and have a simple, light coloured background. I always use a white background for my items so that they stand out.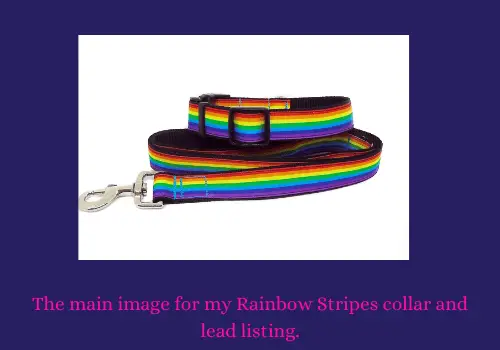 The first image on your listing is what will appear in the search results. This has to be your clearest image so people can see exactly what the item is.
I will sometimes add a photo of one of my dog customers modelling the item, this helps buyers visualise what it looks like being worn. I don't use this as my main image though, as I like my main images to look like they are following a theme of just the item against a bright white background.
You can show up to 10 different photos in your listing. Try and use them all if you can. Show your product from different angles, include an example of a colour variation if you offer that.
If you are struggling to use all 10, make a visual image for your size options or delivery options. I use one of my images to let customers know that standard postage isn't tracked.
People tend to pay more attention to an image rather than reading it in the item description. These can be done on Canva for free. If you have brand colours within your shop, make sure to use them here.
In Conclusion.
If you have got this far, you will have learned some good tips about how write a informative product title, make good use of Etsy tags, include great product photos and write an engaging product description.
With these tips you can increase your likelihood of being seen in search engine results which will lead to more sales!
Search Engine Optimisation is absolutely key to success here.
Don't forget that there are plenty of other ways that you can get the most out of Etsy as well, which we will cover in the near future.
Hopefully in this post we have covered all aspects for getting started with Etsy but if you need more help, or have any questions, then let us know!