Last Updated on 6th August 2021 by Allison
Over the last few years, there has been a surge in the popularity of online marketplaces for handmade goods. Opening an Etsy shop has become an increasingly popular and profitable option for creatives. In this article I will go through how to open an Etsy shop in the UK.
If you're a beginner and have never sold on Etsy before, this blog post will be invaluable. I will go through how to open your Etsy shop, how to list your products, advice on setting up your shop policies, tips for taking good product photos, and common mistakes that new sellers make.
***
What is Etsy?
Etsy is a marketplace for handmade products, vintage goods, and craft supplies.
Etsy was founded in 2005 by Rob Kalin, Chris Maguire and Haim Schoppik as a way to centralize the excess stock they had accumulated at their respective garment factories over the years.
Etsy started as a peer-to-peer ecommerce site, where people around the world could sell their handmade items to other members of the Etsy community. The company is now headquartered in Brooklyn, New York and has become one of America's leading online marketplaces for vintage goods.
In 2018, Etsy reported that it has more than 100 million active buyers globally. This has gone up massively over the past 12 months due to the upsurge in online shopping when Covid-19 first appeared and we all went into Lockdown.
Many people took up crafting during lockdown. Selling on Etsy is a perfect way of starting a creative business, which is exactly what people have started to do.
Is It Worth Selling on Etsy?
It is definitely worth selling on Etsy from the UK. We have seen crafts boom over the last 12 months, and there are many opportunities to make money by using your skills of creating handmade items that you can sell online. It's a great way for creatives to test the water as to whether having a craft business is for them.
I am in the UK and I have 2 Etsy shops. My first shop is DogCharmed, which I opened in November, 2017. This shop sells my handmade dog accessories. I didn't actually list anything until October, 2018 (the fear of failure got to me). I am coming up to 6,000 sales (May, 2021), and, according to Erank, I am in the top 1% of sellers.
My second Etsy shop is called DogCottonsFabrics. I opened this shop at the end of 2020. Whereas my first shop sells handmade items, this shop sells craft supplies. Up to now, I have had over 350 sales, which I am happy about.
Selling on Etsy opens you up to a massive audience, something which would be difficult to achieve with your own website.
I offer international shipping in both of my Etsy shops.
In 2020 alone, I shipped to 23 different countries, and I had sales from every American State, and this was just from my dog accessories shop.
As far as I'm concerned, it's a no brainer to sell on Etsy. It's free to join, and costs just pennies to list an item, so there is virtually nothing to lose, and a lot to gain.
Is Etsy Free to Join?
Yes, Etsy is free to join. There is a listing fee for each item you add for sale, which comes to approximately 17p. The listing lasts for 4 months. If, after that time, your item hasn't sold, you will need to pay the listing fee again, or remove it.
If you click on my invitation link and open your shop, we will both receive 40 free listings!
If you sell an item, you will be charged a transaction fee, a payment processing fee, and then the listing fee if it is to be relisted. A rough guide is it is approximately 9% of your item cost that is taken in fees.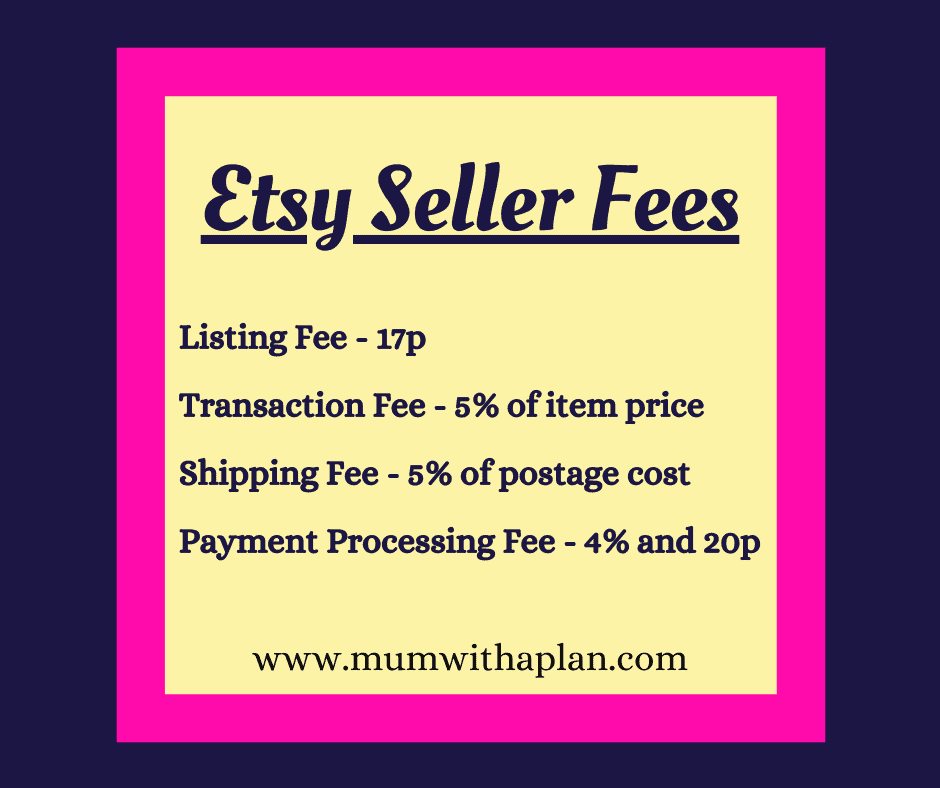 As an example, yesterday I sold a small dog collar for £8, plus £1.95 postage (£9.95 in total), and I received £9.35 from Etsy. They always take their fees first, which is a good thing I think.
Things to Consider Before you Open Your Etsy Shop.
Know what you are going to sell.
Make sure you stick to the rules on what you are selling. It must fall into a category of either, handmade, upcycled, vintage or a supply. It must also be of your own design, not somebody else's. If Etsy catch you, they will punish you!
RELATED POST: MOST PROFITIBLE CRAFTS TO SELL IN 2021
Is there a demand for your product?
The easiest way to find this out is by some Etsy competitor research. Go to Etsy before you have set up your shop, and use the search bar to look for something similar to what you want to sell. Just by having a look at a few of your competitors, you will be able to see if there is a demand for your type of product.
I will go into a lot more detail about competitor analysis in a future post.
Have good product photos.
This is very important. Having good, clear photos, and having photos of your product from different angles is key to being successful on Etsy.
As a buyer, I want to be able to see the item clearly. As a seller, I need any potential buyers to be able to see the item clearly. Having a clear product photo against a white background always stands out in the search results as well.
Take measurements.
You will need measurements of your products for when you write your product descriptions. Customers need to know sizes and measurements of what they are looking for. If you are offering a product in more than one size, make sure each size has the correct measurements.
Calculate your postage costs.
So many Etsy sellers trip up on this. Don't estimate your postage costs! Get yourself a set of scales and measure each product. Make sure before you weigh your item that it is in the type of packaging it would be as if ready to post. The reason for this is because most mail is priced by weight. You could weigh an item on it's own and it is in one price bracket, but adding the packaging takes it into the next bracket which could be quite a big difference.
When calculating your postage costs, make sure you account for the cost of your packaging as well.
If you are going to offer international shipping, The Royal Mail works in zones, so be careful that you are charging the correct amount for each area. You will also need customs labels for any country outside of the UK. You can get these from your Post Office.
Do you have a business bank account?
You don't have to have a business bank account, but if you are serious about building your craft business, I would advise you to open one now.
Etsy will deposit your money into your bank using Etsy Payments. You can choose how often this happens. Mine is set to once a week on a Monday.
When you open your shop and input your bank details, Etsy will carry out a security check by paying a few pennies into that account. Once it appears in your bank you have to go to Etsy and confirm the amount. This is so they know it is your account and not some fraudster.
Opening Your Etsy Shop.
It is really straightforward, I promise.
Register with an email address, then click on 'sell on Etsy'.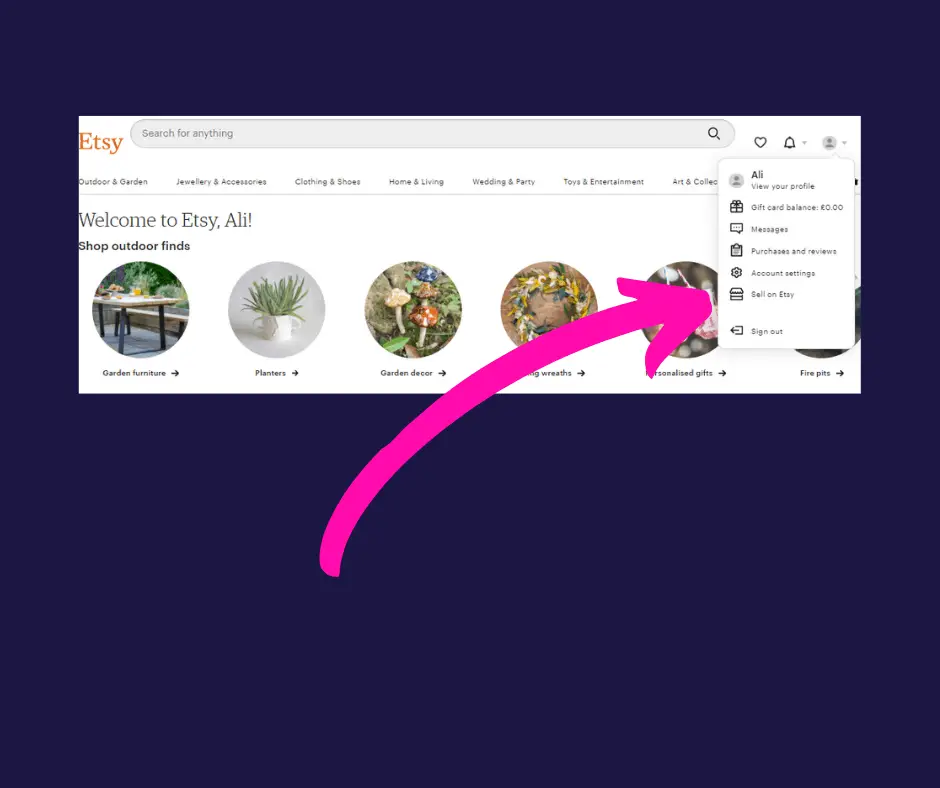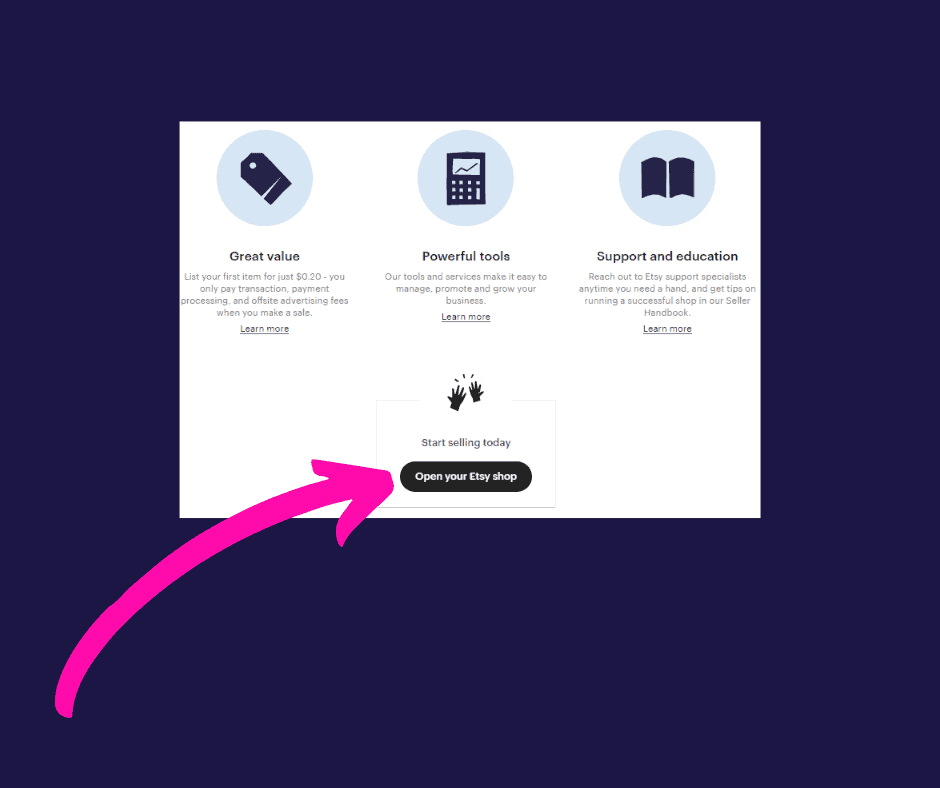 2. Scroll down until you see the 'open your Etsy shop' button.
3. Fill out your preferred language and what country you are in.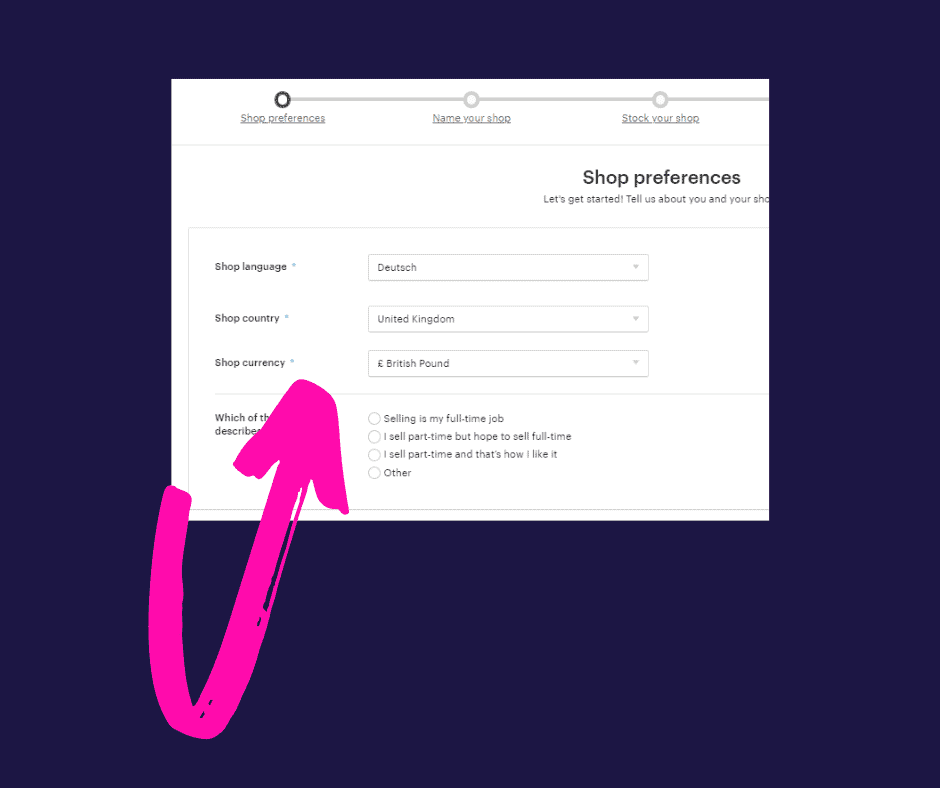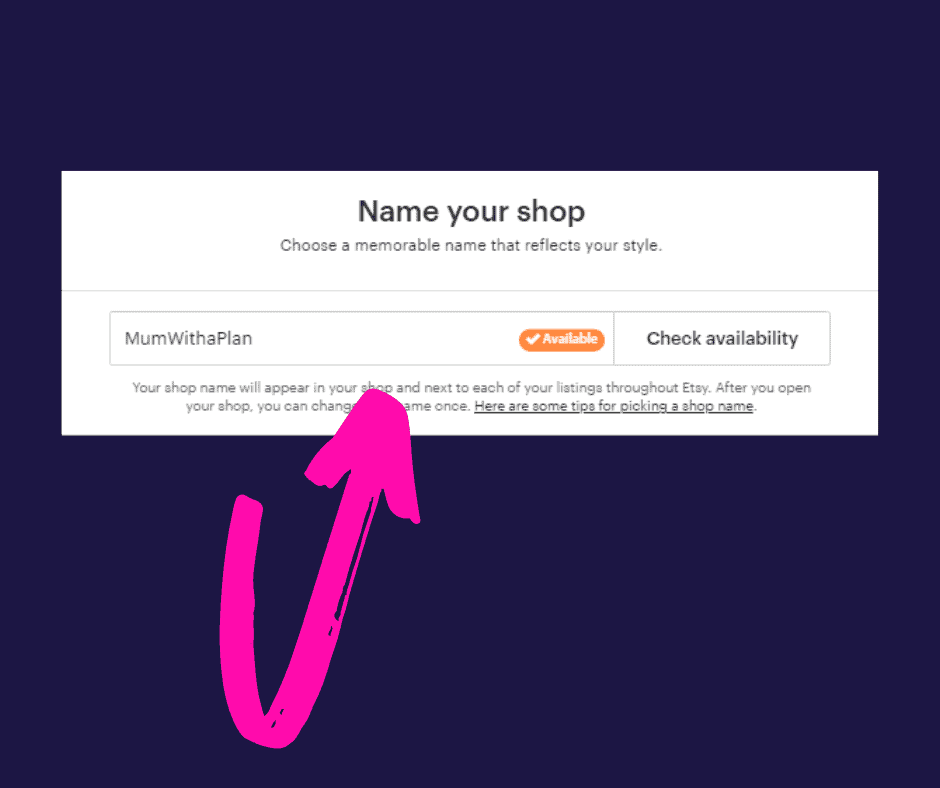 4. Now you need to name your shop. Your shop name is all one word, but you can use capital letters to make it easier to read. I have inputted 'MumWithaPlan' so you can see what I mean. When you click on 'check availability', Etsy will tell you if it is available or not. If it isn't, Etsy will give you some alternatives.
I would try and make sure what you sell, or who your market is, is included in your shop name somehow.
5. The next thing to do is stock your shop. Etsy advises to start with at least 10 listings. I would suggest nearer to 25 if you can, so you have a good selection.
Writing a Good Product Description.
Writing a good product description can seem like a daunting task at first.
Your title should explain clearly what it is you are selling. I also like to put different descriptions into my titles as well. For example, this collar would be listed as 'yellow bee print adjustable dog collar, puppy collar, large dog collar'.
If a customer inputs a combination of this into the search engine, my listing will hopefully appear in the search results (I've just had a quick look via an incognito window, and if I put 'bee print dog collar' into the search engine, I appear on the first page).
It is important that you put your products into the correct category. Using the wrong category could prevent your product being search in relevant search results. Etsy will try and guide you towards the correct category.
Try and fill out as much information in the dropdown boxes as you can as it is more information for the potential buyer.
It's important to write a description that will entice customers to buy. This is where you need to think like a buyer and have a think about what you would want to know before you buy. Include measurements, washing instructions, what it is made from, size information, colour etc.
Make sure your spellings are all correct! I know it seems like a stupid thing to say but there are shops on Etsy with the most horrendous spelling!
You will need to give a processing time, so the customer knows how long it could take to make their order. Give yourself enough time so you aren't panicking if you get a few orders come through in a short space of time. However, don't make your processing time too long that it puts buyers off. I tend to increase my processing time in the middle of November when it starts getting busy for Christmas.
At the bottom of the listing, you can input tags. These are basically keywords. For example, for my bee collar, I would input things like: dog collar, puppy collar, large dog collar, new puppy gift, yellow dog collar, bee dog collar, girl dog, boy dog,
The better your Etsy tags are, the more chance you have of being placed higher in the search results. It is better to use tags that have more than one word in. You're basically putting in potential search terms that buyers would put into the search bar.
*The next stage is to input your band details for Etsy Payments. Etsy Payments is a good tool as it enables the buyer to pay through a variety of different ways, none of which you need to get involved in directly.
*Once you have the basics of your shop set up, you can then add your About Me details. This is the place to tell your story of how you started making what you make. I know the About Me section is read a lot as I get messages regularly from people who have read my story and can resonate with it. People like to know who they are buying from when it is a handmade item.
*Make your shop look nice by adding a shop banner. This can be done easily, and for free on Canva. If you haven't already done so, make yourself a logo, and pick some brand colours. Use them throughout to give your shop a brand image.
Does Etsy Have an App for Sellers?
Yes, and it is very good. You can set it so when you have a sale, your phone makes a ChaChing sound, which is very exciting the first few times it happens!
You can check your orders, reply to messages, add listings etc from the app, so is worth downloading.
Promoting Your Etsy Shop.
Once you have opened your Etsy shop, you need to promote it. Social media is a great place to start.
Your Etsy shop web address will be www.etsy.com/shop/yourshopname so post it on your social media accounts, and let your friends and family know as well.
Etsy Tips.
Don't panic if you don't get a sale in the first few days of opening your Etsy shop. It can take a few days or even weeks to appear in a search result.
Set up international shipping – this can really increase sales! Remember that Etsy is a global marketplace, so your listings will be seen by people from all over the world.
If any of your products can be given a seasonal theme, take advantage of it! Make sure you list it well in advance of the occasion as well. I will list my Christmas items in August. Halloween is massive in America so think if you can make anything Halloween themed.
Make sure you make use of your shop announcement section. I use it if there are any problems with delivery times, or I will announce when I have added the Christmas range etc. You can even just add a little welcome message on it.
It can look lazy if the last announcement was posted a year previously. Buyers can see the date it was last updated. New customers like to look at things like this, and it looks more professional when used properly.
Fill in your shop policies. Don't forget, your Etsy shop is your business and you need create policies that both you, and your customers, can refer to if needed.
Make use of the Etsy Forum. There is a lot of advice in there. The same with the Etsy Handbook.
Join some Facebook groups. There are lots of different groups that give Etsy seller advice and support. Some are useful, and some want to make me throw my phone out of the window.
I have set up my own Facebook group for anyone with a craft business and this covers Etsy as well. You can join here.
Always think like a buyer! Look at everything in your Etsy shop through the eyes of a buyer. What do they want? What will make them stay longer and share your Etsy shop with their friends or network on social media?
Do not be scared of feedback. Whether it is negative or positive, there are always valuable points that can help you improve as an Etsy seller in the UK!
ETSY RELATED POSTS:
ULTIMATE GUIDE TO ETSY SHIPPING
HOW TO DEAL WITH A BAD REVIEW ON ETSY
In Conclusion:
Opening your Etsy shop in the UK can be a very rewarding experience, but it does take time and effort.
To make sure you get off to a great start there are some things that you need to think about before first before opening your shop and becoming an Etsy seller, but it is certainly worth doing.
Do you have an Etsy shop? Let us know what it is called in the comments below.