Last Updated on 6th August 2021 by Allison
A Guide to Etsy Reviews from Buyers, and How to Deal with a Bad Review on Etsy.
Every so often, we all have a bad day. You start off in a great mood, but then something goes wrong and you end up in tears.
This is how it feels if you get a negative review on Etsy. It's obviously not what you want to see from a customer.
But, before you get defensive, or throw the laptop across the room in anger, take some time to think about how this bad review may be an opportunity to make improvements within your Etsy shop.
The thing about feedback is that it can help us learn more about our customers (and ourselves), so we can hopefully better serve them in the future!
Hopefully, this post will help you navigate through the highs and lows of Etsy reviews, and how to deal with a bad review on Etsy.
RELATED ETSY POSTS:
ALL YOU NEED TO KNOW ABOUT ETSY SHIPPING.
What is an Etsy Review?
Etsy gives the option for a customer to leave feedback for anything they purchase through their site.
Their review system goes by a star rating, 1 star being the worst, and 5 stars being the best. The customer can also leave feedback as well as their rating.
This rating is shown on your shop front, underneath your shop name. A customer can also scroll down to the bottom of any of your listings and will see your most recent reviews.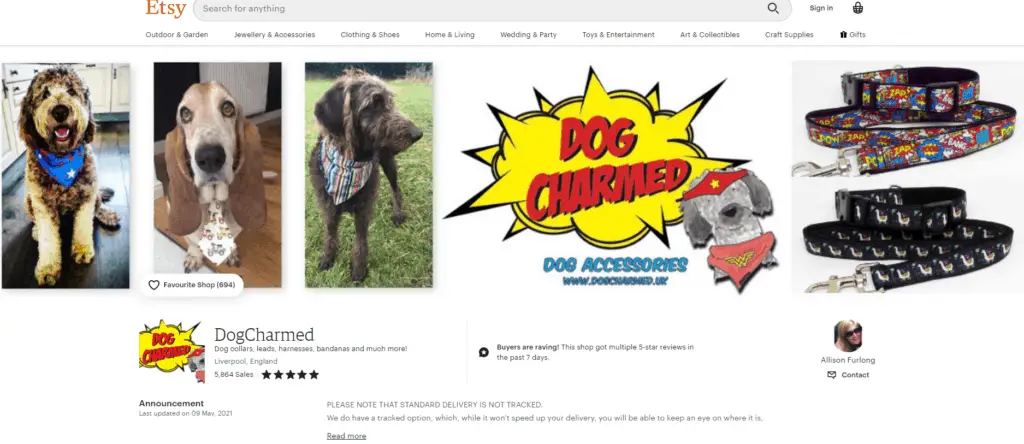 How Can you Leave a Review?
As a customer, when ordering a physical product, you are able to leave your review once your estimated delivery date has passed.
You have 100 days from that date to leave your review.
If you have ordered a digital product, you have 100 days from when you download your purchase.
You need to have an Etsy account to be able to leave feedback. If a customer signs in to Etsy as a guest, they are unable to review their purchase, unless they sign up and link that purchase to their account.
Can Etsy Sellers Rate Customers?
Unfortunately not. They used to be able to in the past, but Etsy removed the feature some time ago.
Can Bad Reviews Affect you as a Seller?
Potential customers do like to look at your feedback. If you have a high number of negative reviews, this could affect their decision on whether to buy from your shop, especially if there is a specific trend to the negative reviews.
If you get a higher than average number of bad reviews, this could affect your position in the Etsy search results.
Your shop could be at risk if you start to receive a higher than average number of cases opened against you as well. A customer can open a case against you if they are unhappy about something.
A lot of Etsy shops (especially the newer ones) have an unhealthy obsession when it comes to their reviews.
I can completely understand this, as this is your business, and you want to build a good reputation. Having lots of positive Etsy reviews will show potential customers that you are a trustworthy Etsy shop.
However, even the best businesses in the world will receive negative feedback from time to time. It is all part of having a business. The way you deal with the feedback is the most important thing.
I have seen in Etsy forums, some shops worrying that not many of their customers have left them a review. Your review percentage could be anywhere from between 10-25% of your total sales. It shouldn't be considered bad if people aren't leaving reviews in your shop. You could have many sales from guests, who aren't able to leave a review.
Should you Ask Someone to Leave a Review?
My personal opinion on this is that I would never ask a customer to leave a review. I think it comes across as a bit desperate.
If you are confident in your products, and you provide the best customer service possible, there is no need to worry. The good reviews will start to appear.
Some customers will always review purchases. Others will never do so.
I have bought items from Amazon or eBay in the past, and I find it highly irritating to receive a message a few days later, asking me to leave a review 'if I'm happy with my purchase'. I will never leave a review in this situation, unless the item is really bad, then that is their own fault for getting in touch with me!
Most customers tend to leave a review if they really like, or really dislike what they have bought.
You can amend the wording of your Etsy receipt to mention that as a customer, they are entitled to review their purchase through Etsy.
That would probably be as far as I would go. I would keep it totally generic and would not include 'if you are happy with your purchase', or anything along those lines.
How to Deal With a Negative Review on Etsy.
What if you get a Bad Review on Etsy?
It really is a horrible feeling when you receive a notification from your Etsy shop to say someone has left you feedback, and when you look, it's rubbish.
Most have us have been there.
It has happened to me a few times, they have all been due to problems with delivery with international orders.
Every time it happens, I start worrying that my Etsy shop is finished, and that no one will order from me ever again once they see it.
I am wrong every time, of course.
The best thing to do is to not panic and start contacting the customer straight away, demanding to know what the problem is. They could have a genuine reason why they have left you a negative review.
If so, this may be something you could work on to improve the buying experience for other customers.
Etsy Advice to Sellers on Dealing with a negative Review.
The ETSY HELP CENTRE has a whole section on what to do if you receive a negative review.
They do have policies in place where you can report a negative review if it goes against one of them. I will go in to more detail about them further down.
How to Respond Privately to a Negative Review.
If you are feeling upset, angry or defensive about this, do not contact the customer straight away.
You need to be calm and professional when trying to deal with something like this. You do not want to make the situation worse.
I must take a second to apologise for all the Schitt's Creek GIFs. They are all very relevant and it really is the funniest programme on TV ever! (sorry, not sorry)
If the buyer has left a 1, 2, or 3 star review but with no feedback to explain why they have decided on this, you should message the buyer politely and ask them if there is anything that you can help them with. I have posted an example below.
How to Respond Publicly to a Negative Review.
Responding publicly to a negative review can be tricky. You can only respond to a 1, 2, or 3 star review and you have to remember that this will be seen by everyone who takes a look at your reviews.
So, as with when you respond privately, you need to be calm and professional.
You should only really respond publicly to a negative review if the buyer wont interact with you privately about it.
Remember that once you have responded publicly to a negative review, the customer is unable to amend that review.
Examples of how to Respond to a Bad Review.
Responding Privately.
These are just very basic outlines. You will need to amend them so they fit with whatever the problem is.
This is for when a customer has left you 1, 2 or 3 stars but with no explanation as to why.
Dear ……………..
I have noticed that you have left a review indicating that you aren't completely satisfied with your purchase.
Is there anything at all I can help you with?
I appreciate you taking the time to leave a review and would like to try and rectify any issues you may have.
Best Wishes,
…………
This is for when a customer has left you 1, 2 or 3 stars with an explanation to go with it.
Dear ……………
Thank you for taking the time to leave feedback on your recent purchase.
I am really sorry to hear that there was a fault/you weren't happy with the quality/you felt it wasn't as advertised etc (refer here to whatever their issue was).
Would you mind taking some photos (if applicable) and sending them to me so I can have a look?
I would like to be able to resolve the issue for you where possible.
Best Wishes,
………………
Now, how the buyer responds to either of these examples will determine how you sort their issue out.
If an item is faulty and it isn't the fault of the customer, in this case you ned to offer a refund or a replacement. It is always better to offer both, so the customer can choose.
If they have sent you photos where you can clearly see what the problem is, I wouldn't even bother asking them to return it, but that is your decision to make.
If, however, you think the item may have been damaged by the customer, then request for the item to be returned so you can have a closer look at it. This is completely normal procedure with any online store.
You may find that it something completely random why the customer has left a negative review. They could have clicked on the wrong number by accident! Hopefully, by contacting the customer like this, any errors on their part can be rectified.
Another popular response is that the item was smaller or larger than expected. If you have your sizes clearly listed, you can refer the buyer back to them and ask if they would like to exchange for a different size.
Responding Publicly.
If you decide to respond to a review publicly (if the customer hasn't responded to your message), the best thing to do is state the facts and what you have offered to do.
For example, a customer has left a 2 star review and said 'item was too small'
I would respond with 'we explain our sizing clearly in our item description. Customer has ordered a small, which is what he/she received.
Sometimes you will find a customer won't respond to you as they are embarrassed that they didn't read the item description properly.
Can you Dispute a Negative Review?
If a negative review has been made due to something completely out of your control, it could be in violation of Etsy's policies, and so you can report it.
Reviews will violate Etsy's policies if they:
*Contain private information
*Contain anything obscene
*Violate Etsy's Anti-Discrimination Policy
*Contain medical claims
*Are classed as advertising or spam
*Are about something out of the seller's control-for example, a delivery carrier, or the buyer has given an incorrect address.
*Contain threats or extortion
*Have been made by someone to falsely inflate a seller's feedback score (also known as shilling).
If you decide to report a review to Etsy, this is a confidential process, so you don't have to worry about the reviewer finding out.
Etsy will investigate the review, and, if they think it has violated one of their policies, they will remove that review.
Should you Ask the Buyer to Change their Negative Review?
A customer is under no obligation to amend a review they have left, even if you have resolved any issues they may have had.
I have found, through experience, that a buyer will amend a review if their issue has been resolved, especially if the seller has contacted them about it first.
While you are well within your rights to ask the customer to change their negative review, I personally wouldn't.
Depending on how the buyer has been responding to my efforts to resolve the issue, I may ask them if they would edit their review to reflect the fact the issue has now been resolved to their satisfaction.
If the negative review is due to a shipping problem, this is one that Etsy will remove, if you have proof of postage to show it was actually sent.
This is probably the most common reason for leaving a bad review.
It is so frustrating to see 'never received this item' and a 1 star for a review as it is usually due to the item being lost in the mail, which is not the fault of the seller.
Etsy Review Extortion.
I have heard about this happening to some Etsy sellers. Fortunately, I haven't come across this personally in either of my Etsy shops.
Some sellers have received messages from a customer of theirs who has ordered something and has asked for something extra to guarantee a positive review, or who have asked for a replacement to be sent otherwise they will leave negative feedback.
This is basically extortion and should be reported to Etsy if you experience anything like this.
What Happens When a Buyer Opens a Case Against Your Etsy Shop?
Sometimes, if a buyer isn't happy about something, they won't even bother leaving a review, they will just open a case with Etsy.
Many sellers will break into a cold sweat when they see the Etsy Case email appear, as they can envision their Etsy shop being closed down because of it.
I can assure you that one or two Etsy cases against you will not make Etsy drop kick your shop into the horizon.
Etsy will email you to let you know a case has been opened and that you need to try and resolve the issue with the customer as quickly as possible.
Most of the time, this relates to items not arriving. This can be resolved pretty easily as long as you have proof of postage and can show that to Etsy. You are best to offer a refund and then make a claim through the mail carrier (Royal Mail if here in the UK), who should then refund you.
As soon as you refund the customer, Etsy closes the case and that is the end of the matter.
This is the only time when I will ask a customer to amend their feedback if they have left any. I will put in my case update 'item has been lost in the post. Proof of postage is attached. I would appreciate it if the customer could amend their feedback to reflect this, as items being lost in the post is completely out of my control.'
Recent Example:
I had one like this very recently. The customer left me a 1 star review with no explanation, then immediately opened a case to say item not received. It was an international order and had been posted 5 weeks ago so was lost.
I asked them to confirm the correct address was on the order. As soon as they had done so, I gave them a full refund then posted the note above. The buyer immediately changed the review to 5 stars because I refunded them so quickly.
One piece of advice when dealing with an Etsy case being opened against you, is to only ever respond to the customer through the case. Don't message them privately. This is for your own protection more than anything.
If you don't respond within 3 days to a case being opened against you, Etsy may take action by suspending your account. It's always best to sort things out as soon as possible.
Conclusion.
It's always stressful when you get negative feedback, but don't be fret! It won't be the end of your Etsy shop.
Negative reviews are just as important to your business as positive ones.
You can take the opportunity to use them to improve your Etsy shop and make it better for future buyers.
Just remember that every customer is different; what may have been right for one person might not work out for another.
If you've had an issue with a bad review on Etsy before, let us know in the comments below.