Last Updated on 6th August 2021 by Allison
Starting a craft business can seem like a daunting prospect, but I promise, it isn't. When I tell people that I have my own business and what it is I do, I usually get asked the same two questions:
'Why did you start your own business?' and 'Are you making a proper living from it?'
I don't mind being asked either of these questions. Most of the time, they are asking because they would love to be in my position, especially when it comes to sorting out child care more than anything.
There are a number of steps that need to be completed in order for you to start up a craft business in the UK, but the first thing you need to consider is why you want to set up on your own.
Why Would People Want Their Own Craft Business?
There could be many different reasons:
They have always wanted to but have never got around to doing it
Would love to have a more flexible working life
Spend more time with the kids, especially during holidays
Be their own boss
Illness constraints prevent them from holding down an employed job
Unhappy in their current job
There will be dozens of other reasons which I haven't mentioned, but you get the drift..
I wanted my own business for two of the reasons above – illness constraints and I wanted to have a more flexible working life.
Things To Consider:
There are a few things you should consider fully when you are thinking of starting a craft business for yourself-
Can you afford the start up costs? You can start a business with as little or as much money as you want. I started with £150, which I raised by having an eBay wardrobe clearout.
Read here why I started my creative business
Do you have space at home to create? Depending on what you choose to do as your niche, you may need just a space on the kitchen table, or you may need somewhere a lot larger. This is something you need to consider when picking your niche. 
Are you willing to learn all aspects of having your own craft business? Marketing, branding, accounting to name a few
Are you prepared to have little or no wage for a few months while you are getting your business established? Some people find carrying on with their current job while getting their business started works the best financially.
Do you have supportive family and friends who will help to spread the word of your new business?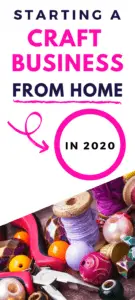 Starting A Craft Business: Is It Worth It?
I have done some digging around to find some really interesting facts and figures about the craft industry, both in the UK and further afield.
How Much is the Craft Industry Worth?
According to Immediate Media Company, the UK Craft Business is worth over £5 billion. The Craft Business over in the US is worth a whopping $43 billion!https://giphy.com/embed/l0HFkA6omUyjVYqw8
69% of woman in the United Kingdom have participated in at least one craft in the past 12 months.
The biggest growth in crafting has been in the 16-34 years age bracket.
The top 5 crafts in the UK are:
Knitting
Cake decorating/Sugarcraft
Drawing/Painting
Sewing
Card Making
UK Craft Businesses.
There are an estimated 11,600 craft businesses in the UK. Over 80% of them are sole traders (like me), and the average length of trading is 16 years.
On average, there are over £5 billion worth of craft exports from the UK each year.
I find all of these facts and figures very positive. If the average length of trading is 16 years, that has to be a good indicator of how well the craft industry actually does. You just have to know all the basics of running a business, a well as knowing your target market and where they hang out.
For more info about the UK Craft Industry, have a look at The Craft Council's website.
Your next step is to decide on your niche.
Things to Consider when Choosing a Craft Business Niche.
Many people would love to have their own successful craft business, and choosing the correct niche is the most important thing to consider.
Have you ever heard of the phrase 'Jack of all trades, master of none'? I am a big believer of this, but am also guilty of this sometimes when it comes to learning. I have spent the past 8 years educating myself in all aspects needed to build a successful creative business, both on and offline. At first, I spent a lot of time learning a little about a lot of different things, and got nowhere fast. Once I focused on the one subject and learnt about that as much as I could, only then would I move on to a new topic.
Whether you currently practise 7 different crafts, or you are a complete beginner, focusing your mind on the one niche will be the best thing for you.
My first creative business niche when I started out was making beaded jewellery. After 3 years, life took me in a different direction and I started making dog accessories as well. I decided to take both my jewellery and dog accessories to events, thinking this would open me up to more potential customers. In reality, it had the opposite effect. I was sending out a confusing message as to what I was actually selling, and, if anything, it affected my sales. Needless to say, I put a stop to that very quickly and decided to focus solely on dog accessories, as I felt I would be more successful in the doggy world.
I have put together a list of things to consider when choosing a creative business niche to focus on.
Do you already have an interest or hobby?
Obviously, if you are already an avid knitter or love making cupcakes, you have a head start on the rest of us! If you don't, what takes your fancy? Have you always wanted to learn how to use a sewing machine, or are you obsessed with candles and would love to learn about how to make them yourself? If you already have an interest in something, have a look at my list, and see what type of creative niche can be linked to it. If you do not have an interest in anything yet, my list could be a source of inspiration for you.
How about something you would buy yourself?
I saved a small fortune when I was making jewellery! If I wanted a bracelet or a necklace in a specific colour, I made it myself! If you have children, there could be something you spend a lot of money on, for example, hair bows (if you have young daughters). That could be the focus of your creative niche. It also puts you at an advantage as you know what colours and styles will be popular, based on what you currently buy yourself.
To bake or not to bake?
I have attended many craft events and markets over the years, and the cakes and cookie stalls always do well. If you are considering a perishable niche, there are extra things to think about. There are specific checks and certificates you need to have to be able to sell food at events, as well as following the correct procedures for storing and displaying food items at the event. On top of all that, you need to make sure your stock levels are correct. This could be a case of trial and error at first. Having spoken to some food sellers at various events in the past, they will always tell you it is better to sell out than have stock left over that has to be thrown away.
Cost of materials
This is another important thing to consider. I would suggest an hour or two at your computer looking for wholesalers for what you need. I used Chinese wholesalers for my beads as they were cheap and only took a week to arrive. It may take a few attempts to find your ideal wholesaler. A good idea is to look at DHGate and Aliexpress which are the most popular Chinese market places.
DO NOT GO TO eBAY AND BUY YOUR MATERIALS FROM THERE!
It is a waste of money! The people who sell beads (amongst other things) on eBay have done exactly what I have just told you to do and have bought them from a Chinese wholesaler. Do it yourself and pay the cheaper price. The only downside to ordering from abroad can be the shipping times. They can also be quite quick though. The average time I wait for my supplies to arrive from China is 5 working days if I pay for shipping via courier. If I use the normal mail service it takes between 2-3 weeks.
How much storage and workspace do you have?
This is an important consideration as there is no point in up-cycling wooden benches if you only have half a table's worth of space to work at! When I started making jewellery, I had the dining room table to work at, and an empty chest of drawers for my 'stuff'. Even if you don't think you have any storage space now, I'm sure a quick de-clutter and eBay day will free some room up for you, as well as giving you a few pounds towards your start up costs.
Does your niche need specialist equipment?
Some crafts need machinery, like a sewing machine, while others just need a bog standard pair of knitting needles. There are, however, other crafts that you need quite a bit of equipment first; pottery and printing are 2 examples I can think of where specific equipment is needed. You can always start with a cheaper version of what you need and upgrade as you go along. I would exercise caution here though, as you need to have something that will last you a while and will do a professional job for you.
One other thing to consider with expensive equipment is 'down time' if there is ever a problem with it, and how that could affect your business. This risk can be reduced if not everything you make will be made using this equipment, so, if it does break down, you still have other stock you can make and sell.
Legal Steps in Setting up a Small Business.
If you are wanting to start a craft business in the UK, there are certain legal steps you need to take. This is the same no matter what type of business you want to start.
Sole Trader or Limited Company?
Firstly, you need to register as self employed. It is easy to do, but you need to decide if you are going to operate as a sole trader or a limited company.
Being a sole trader means you run your business as an individual, meaning you are solely responsible for it. The majority of craft businesses are run by sole traders as it is the simplest business structure.
A limited company can also be run by just one person. The company needs to be registered at Companies House before anything else can be done.
The main difference between a sole trader and a limited company is that as a sole trader you have unlimited liability. This means, if your business gets into trouble, as a sole trader, you are personally liable for any debts. A limited company, however, only has limited liability so wouldn't affect their personal finances.
You are still able to claim Working Tax Credits (if you meet the eligibility requirements) as both a sole trader and a director of a limited company.
More information on Working Tax Credits
Once you have decided on becoming a sole trader or limited company, I would suggest deciding on your craft business name next, if you haven't already done so. You need a business name ready for when you register at Companies House anyway.
Your next step, before you register as self employed, is to sign up with HMRC, which mean you need to sign up to Government Gateway. This is the website you use to register for online services provided by the UK Government. I will warn you now, this is the pain in the arse part of the whole process and it drove me MAD trying to register due to codes and passwords! You need your Gateway password to be able to do anything important through any of the online Government services.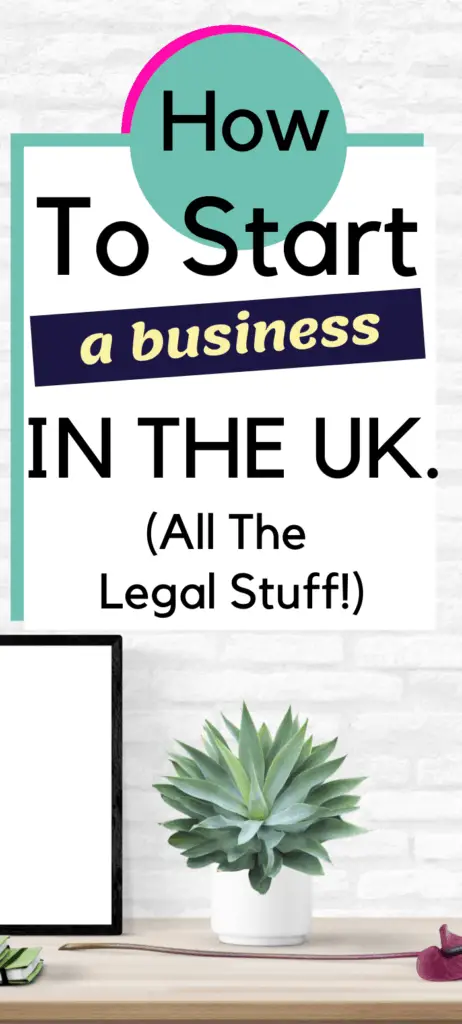 Sole Trader Info.
As a sole trader, you need to register with www.gov.uk for self assessment, and you have to file a tax return every year, even if you don't make enough to pay tax. This isn't as scary as it sounds if you stay organised throughout the year. This is easier said than done. I am the worst culprit for not keeping up with my monthly accounts.
You need to keep records of your craft business sales and expenses. This information is needed for when you fill out your self assessment. You need to be able to account for everything you spend through your business account to prove it is a business expense. It is essential you get receipts for everything you spend.
Accounts is definitely my least favourite part of running a business. Every year I punch myself in the head for not doing my accounts monthly, and every year I promise myself that I will block one afternoon a month in my diary to sort my expenses out. I promise I will start properly next year!!
You only need to register for VAT if your turnover is over £85,000.
Limited Company Info.
If you are setting up as a limited company, you need to register your company at Companies House. To register online, it will cost you £12. If you register by post, it will cost you £40. There are a number of forms you need to fill in here for you to become a limited company.
You then need to register your company with HM Revenue and Customs. This has to be done within 12 weeks of you starting to trade.
Don't forget that you need to have decided on a business name before completing any of the legal steps. I have written an in-depth post on how best to do that here:
CHOOSING A GOOD NAME FOR YOUR CRAFT BUSINESS.
Setting yourself up as self employed might sound daunting to some people, but if you are serious about making a go of your business it's the right thing to do. It can be done in under an hour. I had a real feeling of excitement when I registered as self employed as I was now an official small business, and was ready to find my place in the world!
REALETED POSTS:
HOW TO OPEN AN ETSY SHOP IN THE UK
MOST PROFITABLE CRAFTS TO SELL IN 2021