Last Updated on 6th August 2021 by Allison
It is turning into a very worrying time for everyone around the world at the moment, due to the threat of a worldwide Pandemic. For those of us who are self employed, it is a very uncertain time. I have only ever been in a situation where my own sickness has stopped me from being able to work. I have a long term medical condition so work around it. This enables me to work smartly when I am feeling good, and not get stressed out when I am too ill to work.
A lot of people in the Facebook groups I am in are all asking the same question, 'How will the Coronavirus affect my business?'
Read on for some small business advice which will hopefully be of some help to you.
(PLEASE NOTE, THIS POST CONTAINS AFFILIATE LINKS. This means if you click on a link and purchase something through it, I may receive a small commission at no extra cost to you.)
Are Things Really That Bad?
I think at the moment, it all depends on where in the world you are, and what your business is. As of today (March 13th, 2020), it's not too bad in the UK compared to places like Italy, where they are in total lockdown. Apart from idiots panic buying toilet rolls and pasta, it's all quite manageable.
Will The Coronavirus Affect Business?
What I have seen today though is many events being cancelled as a precaution. I usually attend an event every 6 weeks as a trader. I tend to pick major events as there is bigger footfall so more chance of taking more money. Many event organisers had, up until today, been saying how they will wait for advice from The Government, but have now made the decision to postpone or even cancel events. I think this is in reaction to the news that major sports, for example, football, golf, rugby and cricket have postponed their seasons for at least 4 weeks. I personally think from a public health point of view, it is the safest option. From a business point of view though, I am silently screaming into my freshly sanitised hand (using a tissue, which I will then throw away).
We keep being informed by 'the experts' that things are going to get a lot worse over the next few months before they start to get better. So, with this in mind, we need to have a look to see if there is anything we can do to help keep our businesses ticking over until things go back to normal again.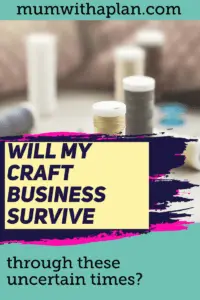 Try Not To Panic.
Obviously, this is a lot easier said than done. I sell online through 4 different platforms, which I am hoping will still bring me an income. I also sell offline at high footfall events. Over the past few days, all of my upcoming events for March, April and May have been cancelled. This equates for approx half of my income. This is absolutely gutting for me as I rely on trading at these big events as I can take 4 figures at them. I am trying to be as calm as possible and not stress. We can't change this situation, and it doesn't just affect me.
There has been talk online about the UK Government offering small businesses a £3K grant to help during the crisis. I had a look at it and it only seems to be for brick and mortar businesses. Hopefully this will change to include those of us that work from home.It is best to keep checking the Government's website for the most up to date information, which you can do HERE.
Time For Some Online Spring Cleaning.
I have decided to use the next few months to firstly try and grow my online business, but also to work on this blog.
My online business has been steadily increasing over the last 18 months. I haven't been able to keep on top of my 'housekeeping duties' on each platform due to being so busy with making orders, and also large amounts of stock for the big events. Obviously, the stock making is not going to be needed for the next 3 months. My plan is to look after my sales platforms (my website, Etsy, Amazon Handmade and eBay). I will do this by adding new products on a regular basis, adding some seasonal tags where needed, seeing if I need to add any more photos to my listings, and also look at any of my listings that aren't selling and change the product descriptions.
More than half of my Etsy orders go overseas. Italy is a country I post to most weeks. They are currently in lockdown due to the Coronavirus. The Royal Mail website has a section where you can see any delay updates for individual countries. You can see that HERE.
I have decided to carry on accepting international orders as normal, but to email the customer to advise them that their item could be delayed due to the current situation, and to please be patient. I have also amended my estimated shipping times on Etsy to reflect the delays that are ultimately going to start happening.
Start Planning Ahead.
I know it sounds ridiculous saying it in March, but maybe now is the time to start designing or making Halloween or Christmas items? There is no point sitting around doing nothing for the next few months until this all goes away. Get yourself prepared for any periods in the calendar where you would see a peak in sales, like Christmas.
Build Your Online Side of the Business.
I always advise people to build their creative business both online and offline, in case one or the other goes quiet. I obviously wasn't referring to a worldwide pandemic level of quiet!
It is always better to sell on more than one online platform. In most cases, you only pay a fee when you sell an item so it won't cost you if it doesn't work. I would also look into getting your own website. This doesn't have to be costly as you can build it yourself. I have built this website through WordPress, which is really quite simple.
Social Media platforms such as Pinterest and Instagram are great places for telling people about your online business, who will then hopefully click through and buy something.
Common sense will tell you that while everyone is stuck at home during Lockdown, the only thing to do of any interest is online shopping. Hopefully, those of us with online platforms will benefit from this.
Start A Blog.
I don't know about you, but I love reading blogs. I also love Pinterest, which is usually how I end up spending hours and hours reading blogs.
Blogging can be hard work, but if done correctly, and consistently, you could earn a regular income from it.
I learnt how to blog (and monetise my blog) from Suzie Whitford. The woman is an absolute blogging legend! She blogs full time, and now her husband has left his job to help her as she is doing so well.
She has a free course to help you get started with blogging. I took the course and haven't looked back since! You can find her HERE
READ HERE: WHY I STARTED A BLOG
You can find some more small business advice in one of my other articles-