Starting a craft business can seem like a daunting prospect, but I promise, it isn't. When I tell people that I have my own business and what it is I do, I usually get asked the same two questions:
'Why did you start your own business?' and 'Are you making a proper living from it?'
I don't mind being asked either of these questions. Most of the time, they are asking because they would love to be in my position, especially when it comes to sorting out child care more than anything.
Why Would People Want Their Own Business?
There could be many different reasons:
They have always wanted to but have never got around to doing it
Would love to have a more flexible working life
Spend more time with the kids, especially during holidays
Be their own boss
Illness constraints prevent them from holding down an employed job
Unhappy in their current job
There will be dozens of other reasons which I haven't mentioned, but you get the drift..
I wanted my own business for two of the reasons above – illness constraints and I wanted to have a more flexible working life.
Things To Consider:
There are a few things you should consider fully when you are thinking of starting a craft business for yourself-
Can you afford the start up costs? You can start a business with as little or as much money as you want. I started with £150, which I raised by having an eBay wardrobe clearout.
Read here why I started my creative business
Do you have space at home to create? Depending on what you choose to do as your niche, you may need just a space on the kitchen table, or you may need somewhere a lot larger. This is something you need to consider when picking your niche. Things to consider when choosing a creative niche
Are you willing to learn all aspects of having your own craft business? Marketing, branding, accounting to name a few
Are you prepared to have little or no wage for a few months while you are getting your business established? Some people find carrying on with their current job while getting their business started works the best financially.
Do you have supportive family and friends who will help to spread the word of your new business?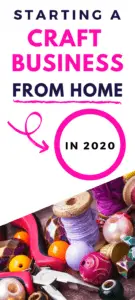 Starting A Craft Business: Is It Worth It?
I have done some digging around to find some really interesting facts and figures about the craft industry, both in the UK and further afield.
How Much is the Craft Industry Worth?
According to Immediate Media Company, the UK Craft Business is worth over £5 billion. The Craft Business over in the US is worth a whopping $43 billion!
69% of woman in the United Kingdom have participated in at least one craft in the past 12 months.
The biggest growth in crafting has been in the 16-34 years age bracket.
The top 5 crafts in the UK are:
Knitting
Cake decorating/Sugarcraft
Drawing/Painting
Sewing
Card Making
UK Craft Businesses
There are an estimated 11,600 craft businesses in the UK. Over 80% of them are sole traders (like me), and the average length of trading is 16 years.
On average, there are over £5 billion worth of craft exports from the UK each year.
I find all of these facts and figures very positive. If the average length of trading is 16 years, that has to be a good indicator of how well the craft industry actually does. You just have to know all the basics of running a business, a well as knowing your target market and where they hang out.
For more info about the UK Craft Industry, have a look at The Craft Council's website.
Have you started your own craft business or is it something you would love to do? Let me know in the comments below!